by Vlad Ungureanu
Aug 2020
Key takeaways from this article!
Psychographics and Social Media
An average of 300 billion dollars is spent every year on digital and social media ads. However, the average conversion rate of most digital marketing campaigns is 2.5% with top ranking brands reaching a peak of 10%.
While there are many reasons where the above situation still holds true, it is clear that the possibility to enhance, enrich and refine the targeting process for digital ads based on consumer personality would prove invaluable. Personality is directly correlated to values, preferences, behaviours and motivation, providing reliable information on how a potential customer evaluates ads, the digital marketing channels that they frequent, the persuasion techniques they respond to. Using this information allows marketers to deliver custom tailored messages directly on the digital channels that would provide the highest conversion rates for each personality type.
Interested in how your campaigns are converting psychographics segments?
Try our Digital Marketing Conversion Rate Calculator!
Need a refresher course in the Big Five personality model?
Big Five/OCEAN Personality Model!
Openness to Experience and Social Media
People who are high in Openness to Experience have broad interests, like to learn and discover new things and seek novelty. Therefore, Openness to Experience is regarded as correlating positively with social media use, frequency and intensity. While people who are high in Openness to Experience spend more time on social media, compared to an average user, their behaviour on social networks is mostly oriented around exploration and discovery. They tend to check their social networks updates more frequently than other personalities and are more likely to engage in social network activities at night.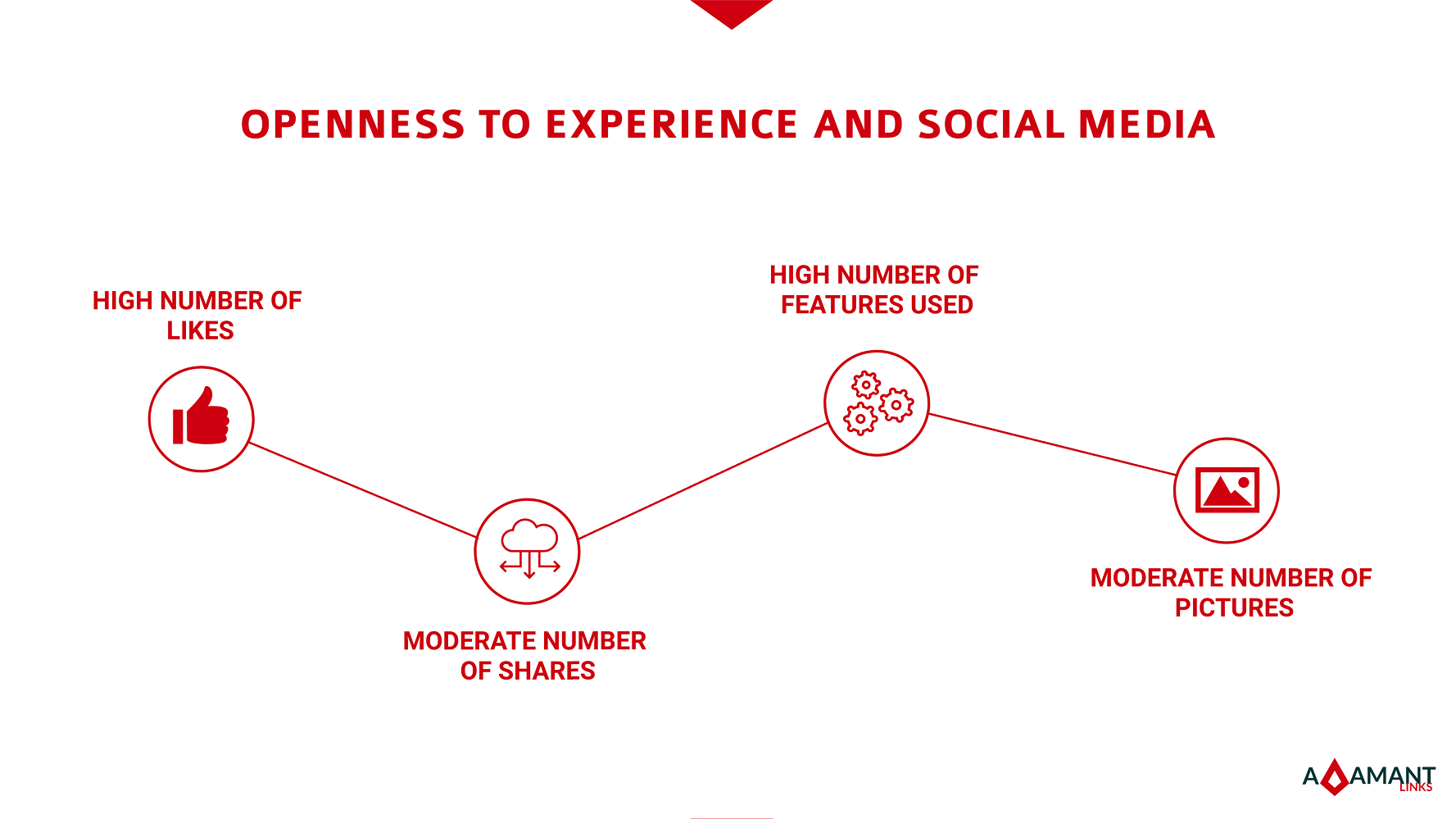 Adamant Links - Openness and Social Media
On Facebook:

Due to their curious nature, they have a higher than normal number of features used.
They have a medium number of pictures (accompanied by frequent changes to their galleries, especially adding new images and removing old ones) and they do frequent status updates.
Due to their moderate need for affiliation they are part of a moderate number of groups, especially public ones.
Less likely to like and share on posts, except for family and friends where they tend to see these behaviours as a normal part of social relationships.
Their tendency to explore and discover leads them to be more likely to like, share and comment on social networks about brands, especially those that are creative, unique or interesting.
They have higher number of liked books, movies and interests.
In order to express their ideas, they are more likely to have longer status updates and biography, write longer comments and tend to use more words per sentence.
They spend more time on social media and are more likely to engage in exploratory searches and navigation (even in the absence of invitations from members of the network or other direct references), as compared to all other Big Five personalities which have a limited and goal-oriented social network exploration. In terms of image content, they appreciate drawings, artistic images and abstract art while they appreciate less pictures containing people. However, if people are present in the pictures they like, it is most likely that the people are seniors or business people.
On Twitter:

Studies show that people high in Openness have consistently moderate numbers of followers and accounts that they are following.
As with Facebook status updates and comments, they tend to write longer tweets. As they tend to use more words per sentence, they have less space for hashtags.
They also tend to avoid tweeting links.
Considering the nature of Twitter, people high in Openness are more likely to engage in tweeting as a form of self-expression, especially when sharing images.
They are also more likely to re-tweet.
On LinkedIn:

People Open to Experience are also defined by the tendency to learn new things and as such they tend to have a higher number of skills on LinkedIn.
They have more content in their "About" section, describing in more details their skills, preferences and contribution.
While defined by curiosity and exploration, people that score high in Openness to Experience do not change jobs too often. They tend to seek out careers that provide a certain degree of freedom and creativity allowing them to maintain a vivid interest in their jobs for prolonged periods.
A particularity of people that score high in Openness to Experience is the fact that they are usually the people that write reviews. Due to their exploratory and curious nature and the preferences to express themselves they are the most likely people to try new things and then describe their experiences. Using a personality analytics tool like IBM Watson or Cambridge's Apply Magic Sauce on most reviews (from movies and books to video games and board games) shows high values of Openness to Experience for most reviewers. As mentioned in previous articles, people high in Openness tend to avoid technical topics and are less likely to write highly technical articles or blog posts.
Conscientiousness and Social Media
Conscientious people make long-term plans, are diligent and have organized support networks. Because of the utilitarian nature of highly Conscientious people, social interactions primarily revolve around keeping in touch with family, friends and colleagues or gaining access to useful information (courses, guides, reports, case studies, webinars). Conscientious individuals are less likely to use social media and also spend less time on social media. Highly Conscientious people are negatively correlated with the use of Facebook, Twitter, Instagram and Pinterest, but favour the utilitarian use of LinkedIn.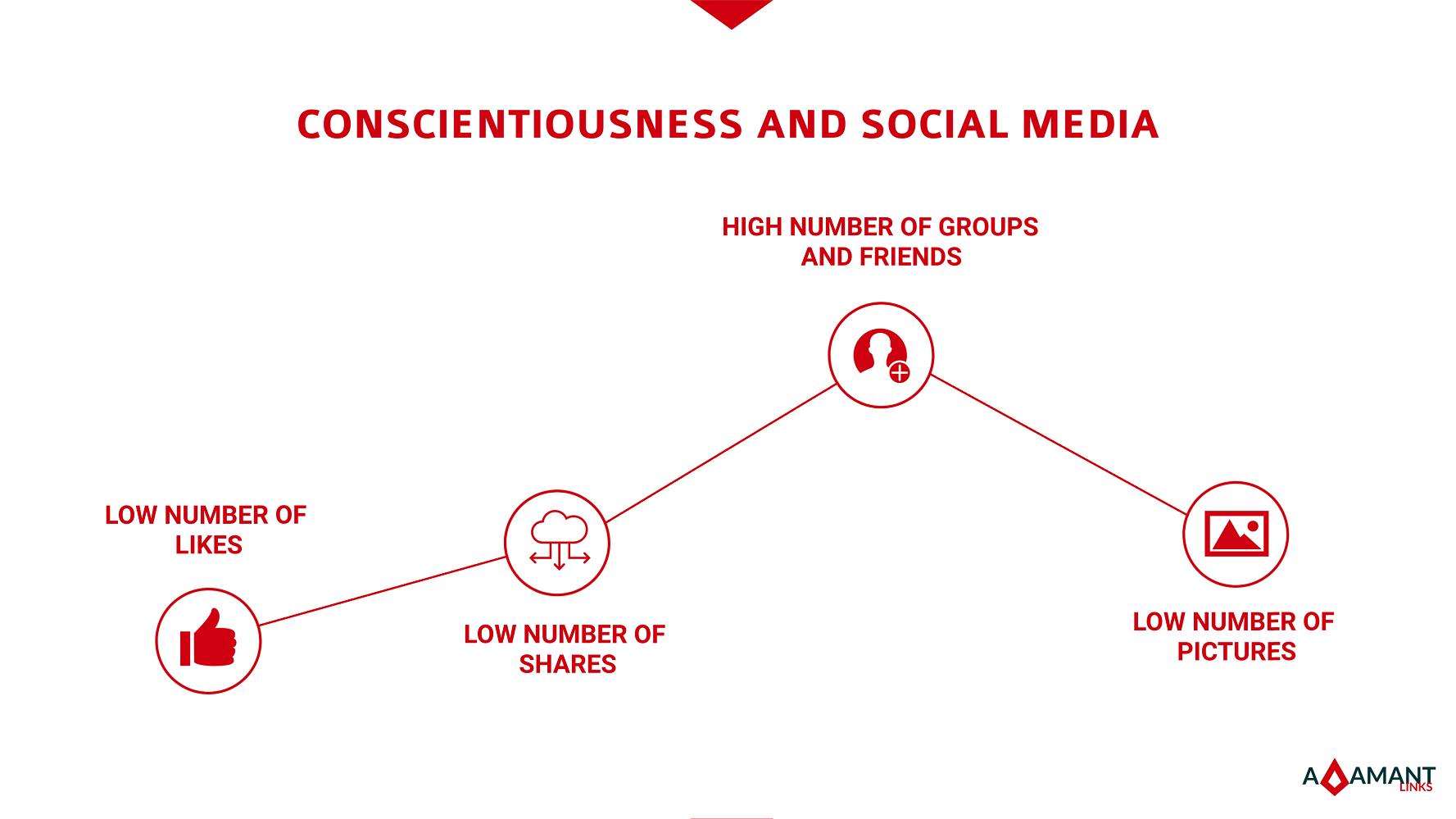 Adamant Links - Conscientiousness and Social Media
On Facebook:

Social networks are seen as weak sources of information or practical interactions and as such, Conscientious people have low number of likes, page visits, comments and photos.
They are part of a high number of groups, especially work or business oriented, although their rarely post or share information, but rather prefer to have access to trends and news.
Facebook is the primarily social network for keeping in touch with family and maintain a minimal level of interest in other relations.
When posting they tend to present information or useful links. They rarely express positive emotions and strongly avoid expressing negative emotions and using curse words.
On Twitter:

Consistently lower number of followers and accounts that they follow.
They tend to write shorter tweets, being more specific and using a lower number of hashtags.
They are more likely to tweet more links.
They are less likely to re-tweet.
They are less likely to follow specific brands, but are more likely to follow news services, especially if they are related to technical topics.
On LinkedIn:

They have a higher number of skills and more connections on LinkedIn, compared to an average user.
In order to correctly present their merits and contribution they tend to have considerably longer descriptions for both the "About" section and the descriptions of their responsibilities in previous work places.
They are consistent and have lower number of jobs in their resume as they tend to prefer stable well-organized companies and tend to avoid the stress of job change.
While they are less likely to follow trends, they do follow influencers as long as they are established as authorities in their respective fields (scientist, businessmen, innovators). As such, they show great interest in digital news, specialized blogs and any media that provides access to relevant content.
In terms of social media images, they do not prefer greyscale colours, and prefer images of people over objects. If people are not present, they prefer images of landscapes (buildings, cities, structures) and office environments (office, classroom, home office).
References:

"Who uses Facebook? An investigation into the relationship between the Big Five, shyness, narcissism, loneliness, and Facebook usage", Tracii Ryan and Sophia Xenos, 2011
"Personality and Patterns of Facebook Usage", Yoram Bachrach¸ Michal Kosinski, Thore Graepel, Pushmeet Kohli, David Stillwell, 2012
"Personality Impressions Based on Facebook Profiles", Samuel D. Gosling, Sam Gaddis, Simine Vazire, 2007
"The influence of personality on Facebook usage, wall postings, and regret", Kelly Moore and James C. McElroy, 2012
"Need for Affiliation, Need for Popularity, Self-esteem, and the Moderating Effect of Big Five Personality Traits Affecting Individuals' SelfDisclosure on Facebook", Jengchung Victor Chen, Andree E. Widjaja and David C. Yen, 2015
"Recognising Personality Traits Using Facebook Status Updates", Golnoosh Farnadi, Susana Zoghbi, Marie-Francine Moens and Martine De Cock, 2013
"Personality and motivations associated with Facebook use", Craig Ross, Emily Orr, Mia Sisic, Jaime Michelle Arseneault and Mary G. Simmering, 2015
"Personality perception based on LinkedIn profiles", Niels van de Ven, Aniek Bogaert, Alec Serlie, Mark J. Brandt and Jaap J.A. Denissen, 2016
"Personality Assessment Using Multiple Online Social Networks", Shally Bhardwaj, 2014
"Our Twitter Profiles, Our Selves: Predicting Personality with Twitter", Daniele Quercia, Michal Kosinski, David Stillwell and Jon Crowcroft, 2014
"Predicting Personality from Twitter", Jennifer Golbeck, Cristina Robles, Michon Edmondson and Karen Turner, 2011
"Predicting Dark Triad Personality Traits from Twitter usage and a linguistic analysis of Tweets", Chris Sumner, Alison Byers, Rachel Boochever and Gregory. J. Park, 2012
"Studying Personality through the Content of Posted and Liked Images on Twier", Sharath Chandra Guntuku, Weisi Lin, Jordan Carpenter, Wee Keong Ng, Lyle H. Ungar and Daniel Preoţiuc-Pietro, 2017
"Predicting Personality Traits with Instagram Pictures", Bruce Ferwerda, Markus Schedl, Marko Tkalcicm, 2015
"The Influence of Personality on Digital Photo Sharing", Daniel S. Hunt and Eric Langstedt, 2014
"Manifestations of Personality in Online Social Networks: Self-Reported Facebook-Related Behaviors and Observable Profile Information", Samuel D. Gosling, Adam A. Augustine, Simine Vazire, Nicholas Holtzman and Sam Gaddis, 2011
"Capturing personality from Facebook photos and photo-related activities: How much exposure do you need?", Azar Eftekhar , Chris Fullwood and Neil Morris, 2014
"The Personality of Popular Facebook Users", Daniele Quercia, Renaud Lambiotte , David Stillwell, Michal Kosinski and Jon Crowcroft, 2012
"Musical Preferences Predict Personality: Evidence from Active Listening and Facebook Likes", Gideon Nave, Juri Minxha, David M Greenberg, Michal Kosinski, David Stillwell, Jason Rentfrow, 2018
"Consumer – brand engagement on Facebook: liking and commenting behaviors", Sertan Kabadayi and Katherine Price, 2014
"Big Five Personality Traits Reflected in Job Applicants' Social Media Postings", J. William Stoughton, Lori Foster Thompson and Adam W. Meade, 2013
"Personality Traits and Social Media Use in 20 Countries: How Personality Relates to Frequency of Social Media Use, Social Media News Use, and Social Media Use for Social Interaction", Homero Gil de Zuniga, Trevor Diehl, Brigitte Huber and James Liu, 2017
"How Personality Affects our Likes: Towards a Better Understanding of Actionable Images", Francesco Gelli, Xiangnan He, Tao Chen and Tat-Seng Chua, 2017
Comming soon:
Psychographics and Social Media - Part 2