by Vlad Ungureanu
Jul 2020
Key takeaways from this article!
Psychographics and Biological Gender
Psychological gender differences have been established and thoroughly studied for more than 40 years. Beginning in 1980s and to the present day, scientists have been able to observe and study consistent and relevant psychological differences between men and women, as a result of the degree of prenatal androgen exposure within normal levels, direct genetic effects and the exposure of the brain to different levels of gender prevalent hormones (oestrogen and testosterone).
Some of these differences are clearly validated across multiple studies, for example the fact that on average, women tend to be more agreeable than men. However, a limited number of psychological aspects that strongly relate to specific, individual experience with caregivers, life experiences, social expectations and pressure, promoted and enforced gender roles and stereotypes, remain specific to each individual and are not taken into account in psychographics.
Taking all of these factors into account, the Big Five/OCEAN personality model is still able to provide reliable, repeatable and explicable results across countries and cultures.
On average women tend to score higher on the Agreeableness and Neuroticism dimensions compared to men. On certain facets of the Extroversion dimension (for example Warmth) and the Openness to Experience dimension (for example Feelings) women also tend to score higher. While there may seem to be a direct link between these personality differences and social roles (for example expecting mothers to be warmer and express their feelings more often), studies have shown that this is not the case.
The finding show that the psychological differences are more clearly defined in more equalitarian countries, compared to smaller differences in low gender equality countries. In other words, countries where gender equality is adopted and applied favour larger differences in personality dimension scoring between men and women.
For a better understanding on how the Big Five gender differences manifest and how they can help marketing and market segmentation we will use specific traits (characterized in 2007 by DeYoung based on the International Personality Item Pool – IPIP) for each personality dimension.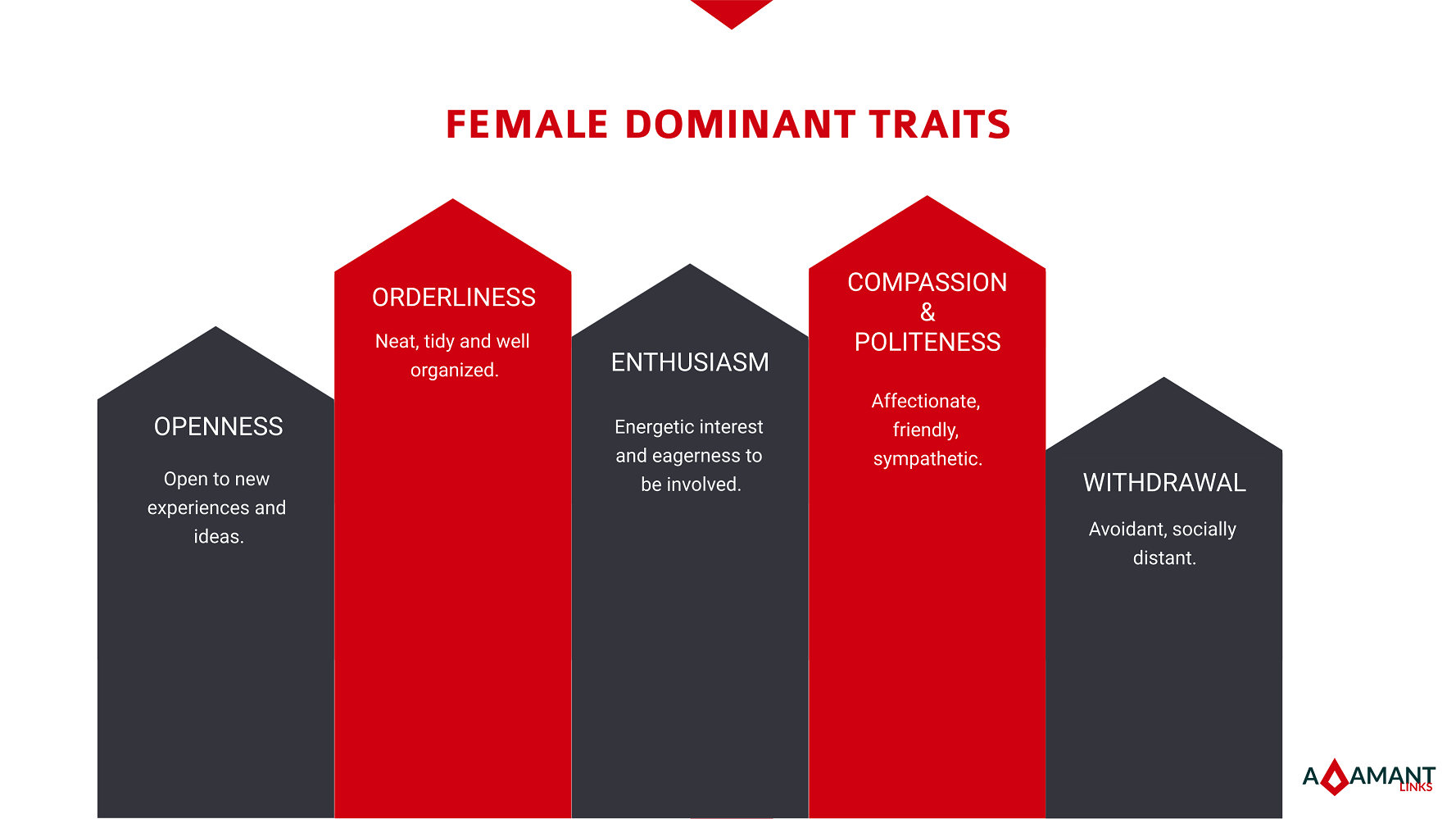 Adamant Links - Female Dominant Traits
Intellect and Aesthetics facets of Openness to Experience
Before going further, please note that Intellect (as defined by International Personality Item Pool – IPIP) does not refer to intelligence, but ability to learn or human potential. It simply defines the preference for: mastering language, thinking about complex ideas, thinking about oneself, enjoy reading difficult materials, having a vivid imagination. Aesthetics refers to a preference for poetry, art and beauty, getting immersed in music, enjoying nature, being creative, reflecting on things and noticing elements that others might not notice.
Women constantly score higher in Aesthetics, while men score higher in Intellect. In fact, women score higher than men on all facets/traits of the Openness dimension, except for Intellect and Ideas, where men usually score higher. While Intellect is not representative for IQ/Intelligence (for which, gender differences are negligible), it does influence the perception of individuals over their self-estimated intelligence. As a result, men constantly estimate their intelligence to be higher, while women tend to estimate it as being lower than it actually is. Taking it a step further, studies link these biases to the fact that men tend to manifest more hubris while women tend to manifest more humility.
In terms of marketing, strategies targeting hubris refer to challenging the status, practices, self-image or habits of the customer while proposing a better alternative, usually in terms of perceived self-image, especially compared to their competition (thus appealing to hubris). For example, while marketing a newer version of a product, aside from pointing out the increased benefits/upgrades/options you can appeal to its price accessibility, limited availability and, of course, the rare status confered by owning the product (all appealing to hubris). Remember we are referring to Openness to Experience, and if the hubris targeting strategy makes people feel uncomfortable or underappreciated it may lead the opposite effect (of not being open to your product or services). For example, in the aforementioned scenario, criticizing their previous acquisition and then presenting the better alternative would have a negative outcome.
For women, Openness leads to strategies that target uniqueness and individuality. As you probably noticed in most commercials, women are not encouraged to compete with other women, especially in terms of looks and accessories (which would be a hubris related strategy), but they are encouraged to be unique, define their own style, chose a product that makes them feel good, safe and beautiful. The strong points of any campaign targeting Openness in women should be focused on the Aesthetic of the product and the Feeling of owning the product (both being facets of the Openness to Experience).
Industriousness and Orderliness facets of Conscientiousness
According to International Personality Item Pool, Industriousness refers to: the tendency to carry out plans, finish things quickly and tend to always know the next steps. Orderliness refers to: a preference for keeping tings tidy, following a schedule and identify established rules.
Considering these two facets of Conscientiousness, women tend to score higher in Orderliness, while there does not seem to be a significance differences between men and women in terms of Industriousness. However, if men and women have similar scores in orderliness, then men tend to score higher in Industriousness.
In terms of marketing, strategies that target men and women should be similar and based on utilitarian aspects of the purchase. The product itself needs to solve a real issue. For example, shoes need to be comfortable but also look good, so that they fit the lifestyle of a hard-working, business-oriented person. If marketing a tool, software application or piece of machinery, the product needs to increase efficiency by either reducing times, increasing quality or lower prices.
Another important aspect of marketing to Conscientious people is that prices, expenses, taxes, transport and features need to presented clearly and in an orderly fashion as people high in this dimension prefer things to be predictable and want to plan around their purchases (for example, they might think: "I will do this specific action on the specific day the purchase will arrive").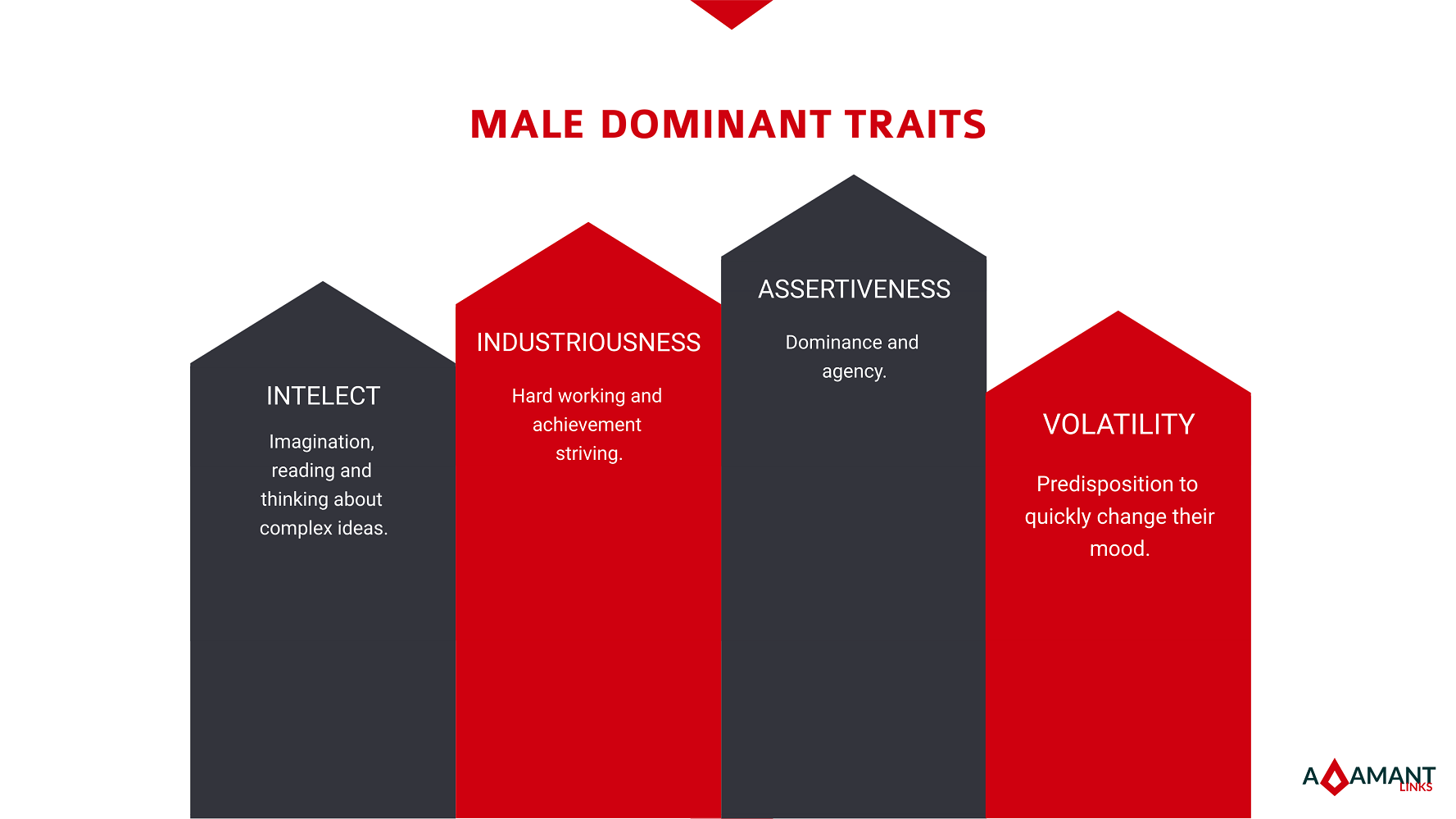 Adamant Links - Male Dominant Traits
Enthusiasm and Assertiveness facets of Extraversion
The Enthusiasm facet reflects sociability, gregariousness, and experiences of positive emotion, while Assertiveness refers to agency and dominance. On average, women score higher than men in reference to most Extroversion traits of Big Five/OCEAN model, however women consistently score higher in enthusiasm, while men score higher in assertiveness.
In terms of marketing, strategies targeting enthusiasm may relate to social interaction, including social media and the positive emotions generated by the purchase. It is common to see commercials that target women to display at least two women discussing the benefits of a product and how they feel after they have purchased it.
For men, strategies that target assertiveness should be able to convince of the benefit of a purchase, while not challenging their sense of agency and dominance. Being too pushy or too demanding might chase away the highly scoring Assertive men. Being helpful provides better results. For example, "Buy Now" or "Last Chance to Buy" diminish the sense of agency. On the other hand, presenting benefits and giving the possibility to freely choose (free demo, samples, video presentation of various possible options/versions/features) is more likely to convince highly Extrovert customers. Just to make it clear, people who score high in Assertiveness (and to some extent in Extroversion) do not like to be told what to do. Another relevant aspect for targeting highly Assertive people is that they do not have the patience to view large amounts of materials or data and prefer marketing data to be short and to the point.
Both men and women that score high in Extroversion, prefer to view more images of the product before making a decision.
Compassion and Politeness facets of Agreeableness
Studies show that women score higher than men in terms of Agreeableness and the associated facets. This translates into women being more polite, trusting and more socially active, willing to invest in maintaining social groups and relations.
In terms of marketing, social consensus is key for any strategy targeting highly Agreeable people. Scoring, number of views, reviews and number of shares all increase the value of the marketed product. Direct benefits are less important, compared to group (or groups) opinion.
However, high Agreeableness also comes with a set of limitations, as people who score high in this dimension do not respond well to aggressive attitude and campaigns, do not respond well to socially unaware or morally challenging brands, products and ideas. They avoid confrontation and strongly avoid dominant individuals, as they appreciate social groups and human values more.
Another relevant aspect of marketing towards Agreeable people is that they highly appreciate the honesty and straight forwardness. If your ad, copy or message seem disingenuous or shady, Agreeable people will most likely avoid your products.
Volatility and Withdrawal facets of Neuroticism
Volatility refers to the predisposition of quickly changing the mood, getting angry, upset, agitated or stirred up easily. Withdrawal refers to feeling threatened easily, worrying more, getting discouraged and frequently feeling overwhelmed by events.
On average, women score higher in Withdrawal (and all others Neuroticism facets), while men score higher in Volatility. As a result, women tend to have an increased need for security and express more often a feeling of vulnerability, while men tend to manifest anger and hostility more (and easier).
In terms of marketing, women require more reassurance or security. Having warranty information and money back policy clearly stated improves any marketing strategy. For examples, large retailers provide the option to get the ordered clothes delivered to one of their work points where the customer can try the items in a dressing room, after which they pay and keep only those items that they want. This increases the feeling of safety for the purchase by increasing the level of control the person has over it.
In contrast people scoring higher in Volatility rapidly loose interest in your product or service if something is not going as they expect it. Constraints, hidden costs, bad customer service or being too pushy can discourage a Volatile customer from making a purchase. They need to be provided with a simple and safe framework for the purchase; in this framework their purchase cannot be criticised or frowned upon as it is an optimal purchase and they are given sufficient time to make the decision (hastening the process results in a sense of pressure and the implicit avoidance).
References:

"Gender Differences in Personality across the Ten Aspects of the Big Five", Yanna J. Weisberg, Colin G. DeYoung and Jacob B. Hirsh, 2011
"Personality and gender differences in global perspective", David P. Schmitt, Audrey E. Long, Allante McPhearson, Kirby O'Brien, Brooke Remmert and Seema H. Shah, 2016
"Gender differences in the Big Five personality development: A longitudinal investigation from late adolescence to emerging adulthood", Michele Vecchione, GGuido Alessandri, Claudio Barbaranelli, Gianvittorio Caprara, 2012
In our next article, get a detailed look at psychographics and age groups:
Psychographics and Age