by Vlad Ungureanu
Jun 2020
Key takeaways from this article!
Psychographics and Internal values
Values define the way people evaluate the outcome of their actions (including the experience of consumption and post-consumption), their thoughts, needs, wishes, desires and objectives. Anything that is aligend with our values, will seem valuable to us, while anything not related to our values will seem irrelevant or even detrimental.
If a product is perceived as bad for the environment then people with Universalism values, might feel guilty after purchase or consumption, leading to a decline in their emotional state related to that product. As a consequence, they might be tempted to avoid that product in the future. If the product image, or brand, is aligned with that person's internal values they are more likely to appreciate it and seek it out in the future. For example, while it may not be pleasant, try to recall any celebrity scandal and how brands (perfectly aware of the relationship between values and their brand image) have immediately cut all ties to that celebrity in the hopes of preventing the negative association with their brand.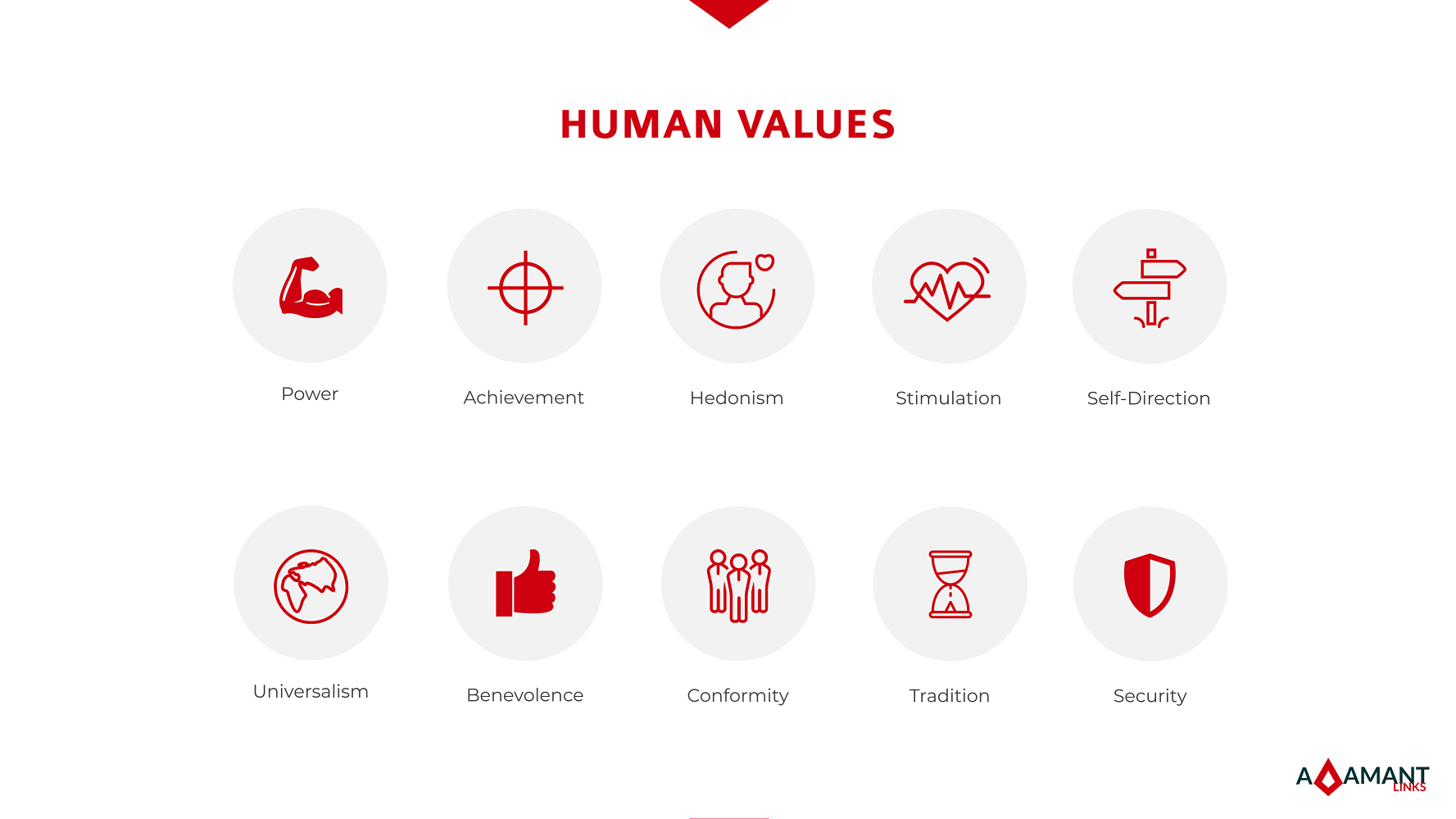 Adamant Links - Human Values
We take into consideration the following values:

Power: being in charge of people and resources and having social power, wealth, authority.
Achievement: seeking socially recognized successes obtained through ambition and competence.
Hedonism: seeking sensual pleasure, fun and enjoying life.
Stimulation: having stimulating experiences; being daring and living an exciting life.
Self-direction: favouring independence of thought and action, creativity, freedom and seeking to satisfy curiosity.
Universalism: promoting the welfare of all people, equality, social justice, protecting the environment.
Benevolence: promoting the welfare of people in the closed social circle, helpfulness, loyalty, honesty, forgivness.
Conformity: values controlling impulses to fulfill others' expectations; self-discipline, obedience.
Tradition: favouring maintaining traditions; moderation, devotion.
Security: seeking to satisfy safety and security of self, family, and nation; social order, cleanliness.
Values are an integral part of our motivation system. And like with the previously discussed aspects of human existence, values can be correlated to personality dimensions. For example, people who are Open to Experience favour stimulation and universalism, while they avoid traditionalism and conformity. At the opposite pole, Agreeable people (who also favour social consensus) prefer traditional values and conformity, while they oppose any values related to power and influence.
The borders between the motivators are most of the time artificial and one value may flow into the another, leading to different motivational factors. As such, manifesting various combinations of values, leads to different behaviours.
We take into consideration the following values:

Power and Achievement: the need for social superiority and esteem (respect or admiration).
Achievement and Hedonism: self-centred satisfaction, the pursue of achievements as a means of obtaining personal satisfaction or pleasure.
Hedonism and Stimulation: motivation to invest in activities, purchases and objectives with the purpose of feeling arousal.
Stimulation and Self-direction: the internal motivation to learn and master new things.
Self-direction and Universalism: the motivation using personal judgment to obtain comfort with the diversity of existence.
Universalism and Benevolence: the motivation to transcend selfish interests in order to help and enhance others.
Benevolence and Tradition: the motivation to invest in, help or improve the immediate group of the individual.
Benevolence and Conformity: the motivation to manifest normative behaviour in order to grow or improve close relationships.
Conformity and Tradition—the motivation to place one's interests as secondary, in favour of socially imposed expectations.
Tradition and Security: the motivation to preserve existing social arrangements in order to increase or maintain certainty or the feeling of control.
Conformity and Security: the motivation to protect of the established order of things and harmony in relations.
Security and Power: the motivation to avoid or overcome threats by controlling relationships and resources.
Openness to Experience
People high in Openness to Experience are motivated by self-direction, independent thought and action (choosing, creating, exploring) as well as stimulation, excitement, novelty and challenge in life. Their internal values consist of stimulation, self-direction and universalism while they oppose conformity, tradition and security.
In terms of marketing, people high in Openness are most likely to be early adopters of products. They are the ones ordering that new blend of herb tea that nobody notices and the ones that follow the latest news and trends. However, in order to get their attention campaigns and ads need to target their desire for novelty and stimulation while still leaving them the opportunity to choose for themselves. For example, offering samples and free trials works best for people Open to Experiences. Making them feel constrained or pressured has the opposite effect as it inhibits their sense of self-direction.
Another relevant aspect for marketers is the fact that people Open to Experiences avoid brands or products that are perceived as traditional or too conformist. For example, ads portraying the traditional family or that claim an unchanged recipe for decades do not have a favourable effect.
Conscientiousness
People high in Conscientiousness are motivated by the need for security and stability (society, relationships, self), conformity and restraining from actions that might hurt others, traditions, commitment and cultural and/or religious ideas. Their internal values consist of achievement, conformity, security and tradition, while they oppose hedonism and stimulation.
In terms of marketing, Conscientious people show a great interest in products or purchases that can facilitate the process of achieving their goals and objectives. Ads that portrait the benefits of a product are the most likely to create a favourable impression. However, novelty and unproved solutions conflict with their need for security and conformity. As such, they are reserved to make purchases when it comes to new products or products that are too innovative.
Portraying a product or service as appealing primarily to hubris, hedonism or pleasure seeking makes the product seem mostly useless. For example, most chocolate ads and commercials present the product as "captivating the senses" or "a delight for the sense" which does not address any of the Conscientious related values. As such, they are more likely to respond to ads presenting nutrition values, antioxidant benefits or energy boost as the qualities of chocolate.
Without getting in too many details (since we are going to cover this in other articles), Conscientious people usually delay gratification, plan their purchases and are willing to wait before they pruchase something they want.
Extroversion
Extrovert people are motivated by hedonism, pleasure or physical gratification for oneself, personal achievements, demonstrating competence according to social standards, gaining power, prestige, control and/or dominance over people and resources. Their internal values are: power, hedonism, achievement and stimulation while they oppose tradition and security.
In terms of marketing, Extrovert people are more likely to purchase products that would help them shine in public or that confer a special social status. Luxury brands, gear and sportswear, latest smartphones and the occasional "bling" all address hedonism and stimulation. They respond best to ads showing people wearing or using the product in a social context, or the way other people respond to the presence of the product. For example, car ads in which a person drives around town and people turn their heads to admire the marketed model address an extrovert personal values.
The need for security is sometimes associated with weakness by extroverts and as such they pay little attention to warranties and guarantees. As long as the product is able to provide stimulation other aspects are less relevant. As with people Open to Experiences, being too pushy in your ads and campaigns conflicts with their value of self-direction and might have a negative effect.
Agreeableness
People high in Agreeableness are motivated by benevolence, welfare of their social groups, universalism, appreciation, tolerance and protections of people and nature. Their values are universalism, benevolence, conformity, tradition and oppose power.
In terms of marketing, agreeable people favour brands and products that are presented as healthy, friendly to the environment, inclusive and especially family friendly. Ads and commercials that portray traditional families, children or groups of friends, preferably in nature have the highest impact. Ever wondered why breakfast cereal commercials always show a family or at least the mother and an open window leading to a green, pleasant garden?
Technical descriptions have the least impact on their perception, while social consensus seems to work best. Brands perceived as harmful to the environment, unfair to people (or their employees) or that they have some sort of monopole on the market oppose most of their values and as such are avoided.
Neuroticism
People high in Neuroticism are separated in two motivational factor groups based on the dominant traits of the Big Five dimension. They either are motivated by hedonistic pleasure, physical gratification and personal achievement or by tradition, commitment, customs and cultural or religious ideas. Their values consist of power, stimulation, hedonism and security, while they dislike all other values, but just a little.
In terms of marketing, neurotic people are either interested in how the product will make them feel or if the product and its purchase are safe and socially acceptable. Some people high in Neuroticism favour stress management strategies related to impulsive or compulsive behaviour and are more oriented towards hedonistic values.
The other type of neurotic people, are those that have a great need of security and external guidance and as such they prefer traditional values and working towards socially acceptable achievements.
As such, in order to reach Neurotic people, strategies used for Extroverts or Conscientious people are most likely to work.
References:

"Personality, Values, Culture An Evolutionary Approach", Ronald Fischer, Cambridge University Press, 2017
"The Big Five Personality Factors and Personal Values",Sonia Roccas, Lilach Sagiv, Shalom H. Schwartz, Ariel Knafo , 2016
"The Big Five personality traits, material values, and financial well-being of self-described money managers.", G. Donnelly, R. Iyer and R. T. Howell, 2012
"Motives, values, and preferences inventory manual", R. Hogan and J.Hogan, 1996
Comming soon:
Psychographics and Shopping Motivation