by Vlad Ungureanu
Aug 2020
Cialdini's Persuasion Techniques
Persuasion is one of the key points of marketing and advertising. A quantitative based approach (number of views, number of clicks, number of visitor and so on) may have a fair share of success but it also comes with a direct correlation with costs. The more you spend, the more exposure you get. Persuasion helps to increase click through and conversion rates within the group of people you are already targeting, transforming your approach to a qualitative one. The more persuasive the message, the more engagement you get, at the same cost.
While the number of persuasion techniques out there varies depending on the author and the source, there are six main principles, called the "Cialdini's Persuasion Techniques" that have been widely studied, documented and used in the fields of marketing and advertising.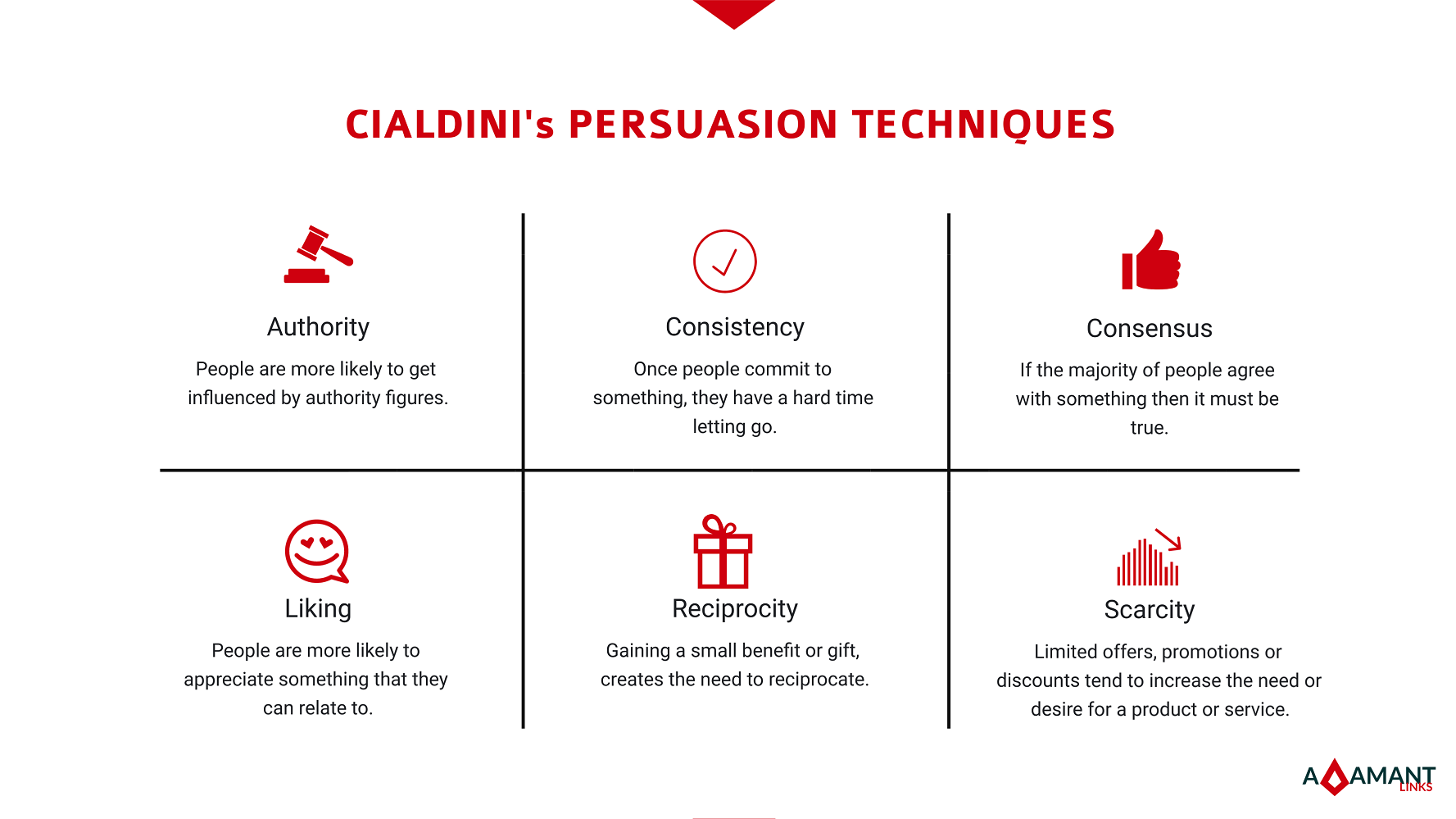 Adamant Links - Cialdini's Persuasion Techniques
Authority
People are more likely to listen to and be influenced by those who are in positions of authority or power as opposed to those who are not. Job titles (e.g. medical doctor) and specific uniforms or gear, infuse the perception of authority, making the average person more likely to accept what that person says, or recommends. You can see this in commercials for various health related products and tooth paste that use doctors to front their ad campaigns. In a similar way, having a celebrity as a spoke person for a brand, product, event or organisation is a great way to appeal to people that respond to the authority persuasion technique.
This technique addresses customers on two fronts. First of all, most people have little or no experience in multiple fields of activity and as such, they cannot form strong opinions about the quality or value of a specific product or service. Having an expert in that fields that presents the benefits of the product or service, provides certainty and security that the presented value is valid. The second aspect of this technique is that it alleviates the pressure of being accountable for a purchase, as the figures of authority takes upon themselves that accountability.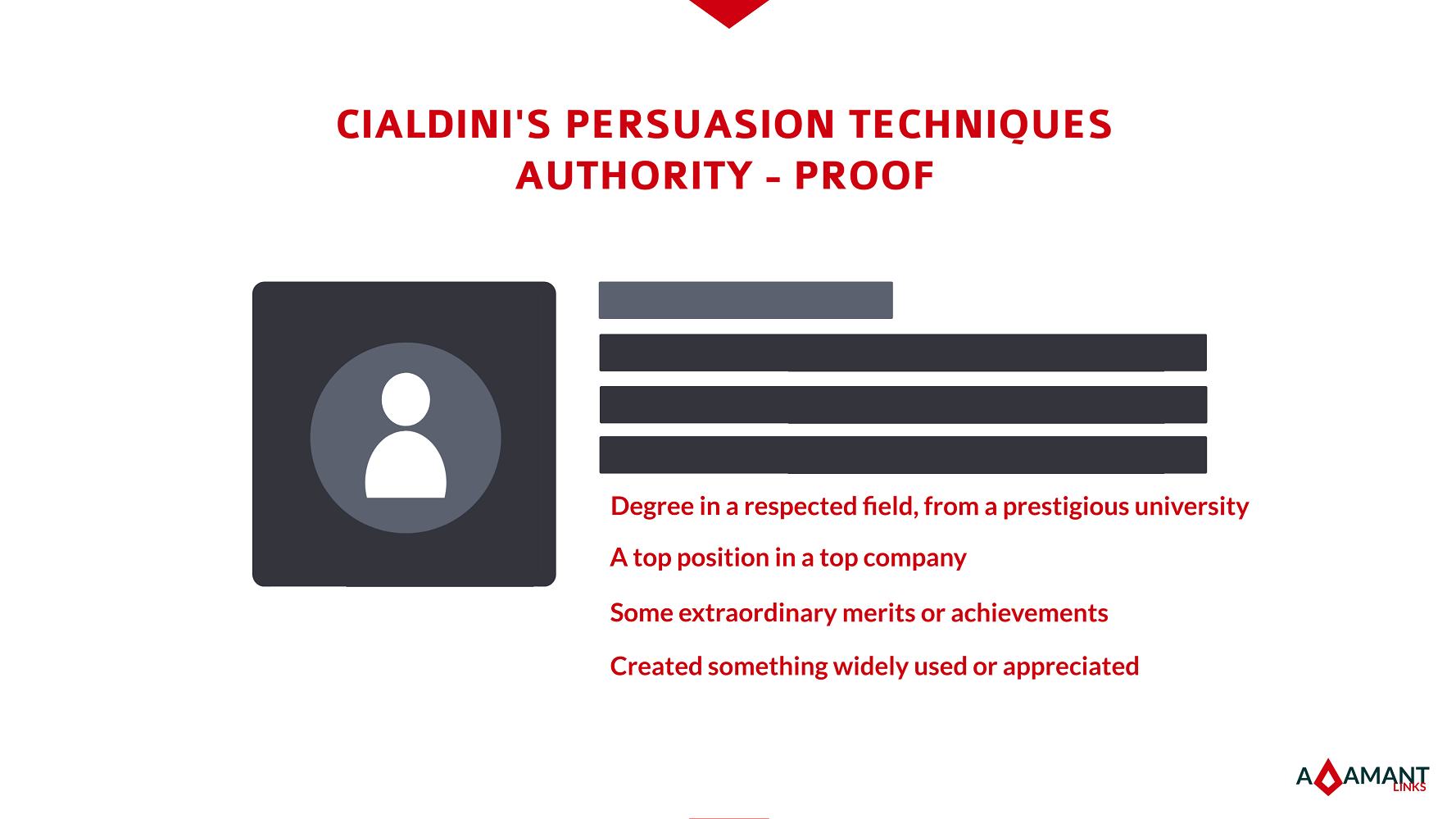 Adamant Links - Cialdini's Persuasion Techniques - Authority: Proof
The most common use of the "Authority" technique refers to providing enough proof that the expert is legitimate and relevant in their field. In video advertising this is achieved by displaying the title under the name of the expert and possibly a short narration or mention (either at the beginning or the end of the video) that of their merits. In general marketing and advertising, showcasing diplomas and titles is the easiest way to suggest "Authority".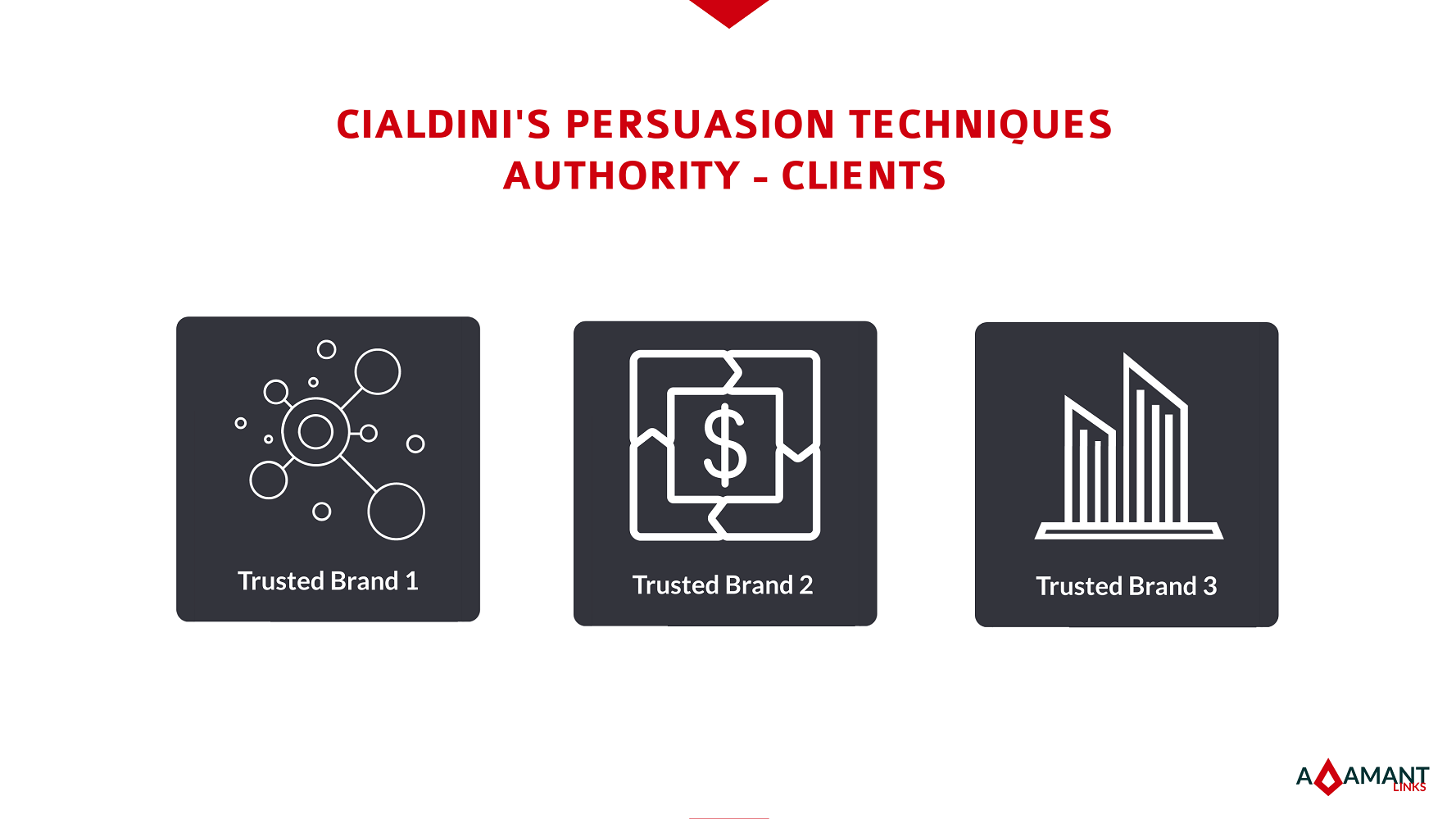 Adamant Links - Cialdini's Persuasion Techniques - Authority: Clients
Another way of using the "Authority" technique is to defer the credibility to trusted third parties. For example, most product sites would showcase their most successful and trusted clients or partners by displaying their names and logos and thus associating their product to the value and credibility of their clients. If a famous company trusts this product, then it must be a trust worthy product. If a product has no outstanding clients, they can show the prizes the product won or, at least, the trusted media that noticed or wrote about them.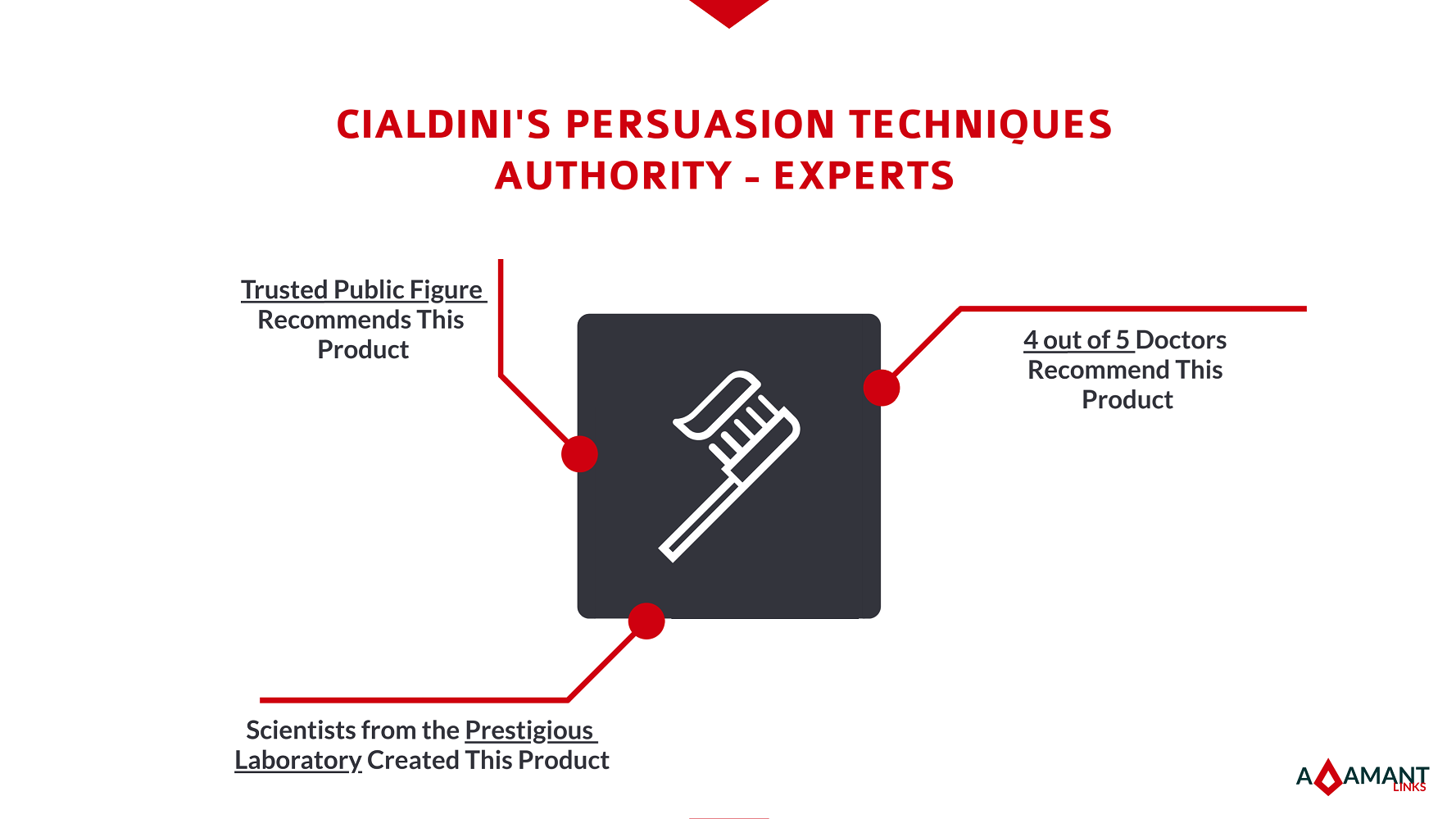 Adamant Links - Cialdini's Persuasion Techniques - Authority: Experts
Finally, an indirect appeal to authority, frequently used in commercials and ads, is to suggest that most experts use a specific product. It is common to see ads containing specific numbers of specialists (as percentages are usually misinterpreted by most people) in a certain field that use the product or service. For example, "4 out of 5 doctors recommend this product". With a considerable investment and especially not for technical products, having a famous person promote your product or service provides a great implementation of the "Authority Technique". For example, "eToro" used Alex Baldwin for a series of video ads that were both funny and educational, giving their product much more weight and traction than an unknown business or stock analyst ever could. Note that "Authority" is the persuasion technique behind "Influencer Marketing". While we are not contesting the utility and efficiency of this type of marketing, as you will see, not all personalities respond positively to it, making other techniques much better as they have a broader reach.
Out of the OCEAN/Big Five personality profiles, people high in Agreeableness and those high in Openness to Experience are the most likely to respond to the authority persuasion technique. Agreeable people have a strong tendency to be compliant and defer to others when it comes to decisions. They rarely oppose other points of view and tend to be empathic and accepting for other people views and opinions, especially if they are seen as "trusted" authorities. In this context, "trusted" refers to undisputed specialists or famous people which could present some authority for agreeable people. Another aspect of Agreeable people is that they are very trusting and as such they respect authority, but they become highly avoidant of a brand or product if it turns out that they have been misleading or untrue.
People Open to Experience are more likely to believe other people's opinions, especially if they seem correctly documented. While they do not like to be told what to do, as they prefer to explore on their own, they are also open to new ideas, especially if they seem to come from reliable sources. They do not directly purchase due to authority, but are more willing to invest in exploring because of authority. Brand or product evangelists, seen as authorities, are best to address people Open to Experience.
Conscientious and Neurotic people are less likely to respond to this technique, unless the authority is "trusted". However, for these personality types authority is seen as trusted mostly in technical or scientific fields, where expertise is more easily demonstrated. Both personality types avoid non-scientific authorities as they have considerably lower credibility. As such, they are rarely convinced by celebrities or famous people.
Commitment/Consistency
People are more likely to do something if they commit to doing it by agreeing to, verbally or in written form. The principle of commitment declares that humans have a deep need to be seen as consistent. As such, once we've publicly committed to something or someone, we're much more likely to go through and deliver on that commitment (hence, consistency). From a psychological perspective, this can be explained by the fact that people have aligned commitment with their self-image. Marketers, of course, have figured out how to use this second Cialdini principle to obtain greater conversion rates. The most common use of this technique is to engage the potential customer in a small, safe and possible free commitment. After this stage is done, the initial commitment can be used to engage the potential customers into doing more.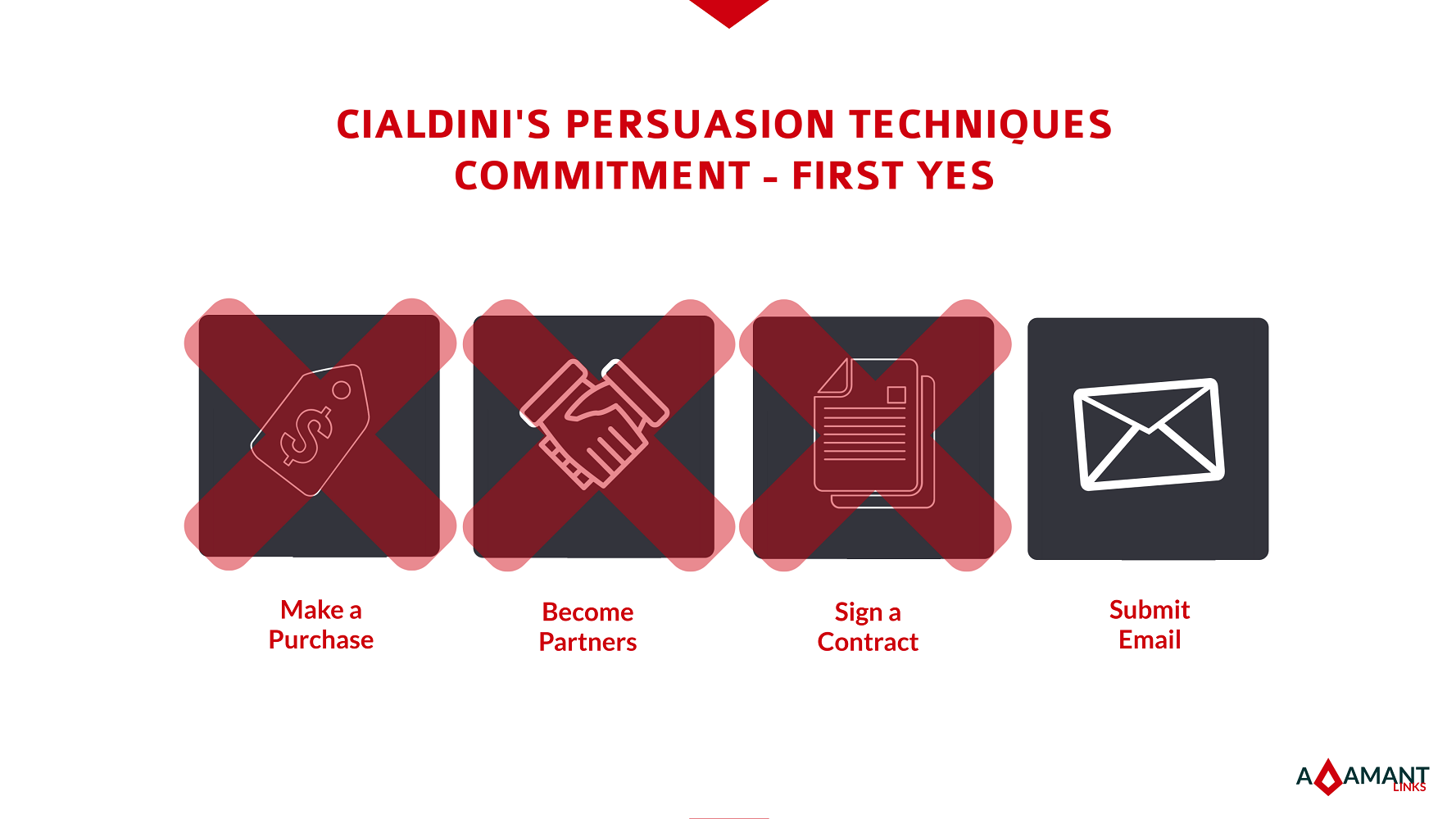 Adamant Links - Cialdini's Persuasion Techniques - Commitment: First Yes
While using social networks, public media (forums, blogs) and even your site, you can get a superficial commitment to something with low engagement (attending a presentation, live session, podcast and so on) and then make it public. Not only is the potential customer committed to your offer but the commitment is public, increasing the level of accountability of the potential customer. The change in the self-perception of the visitor makes it easier to follow up with an offer for a paid product or service (this approach is similar to the "foot in the door" technique referenced in other sources). It's worth mentioning that commitment needs to be voluntary. If a person feels forced into a commitment, they are less likely to honour it and more likely to avoid you in the future.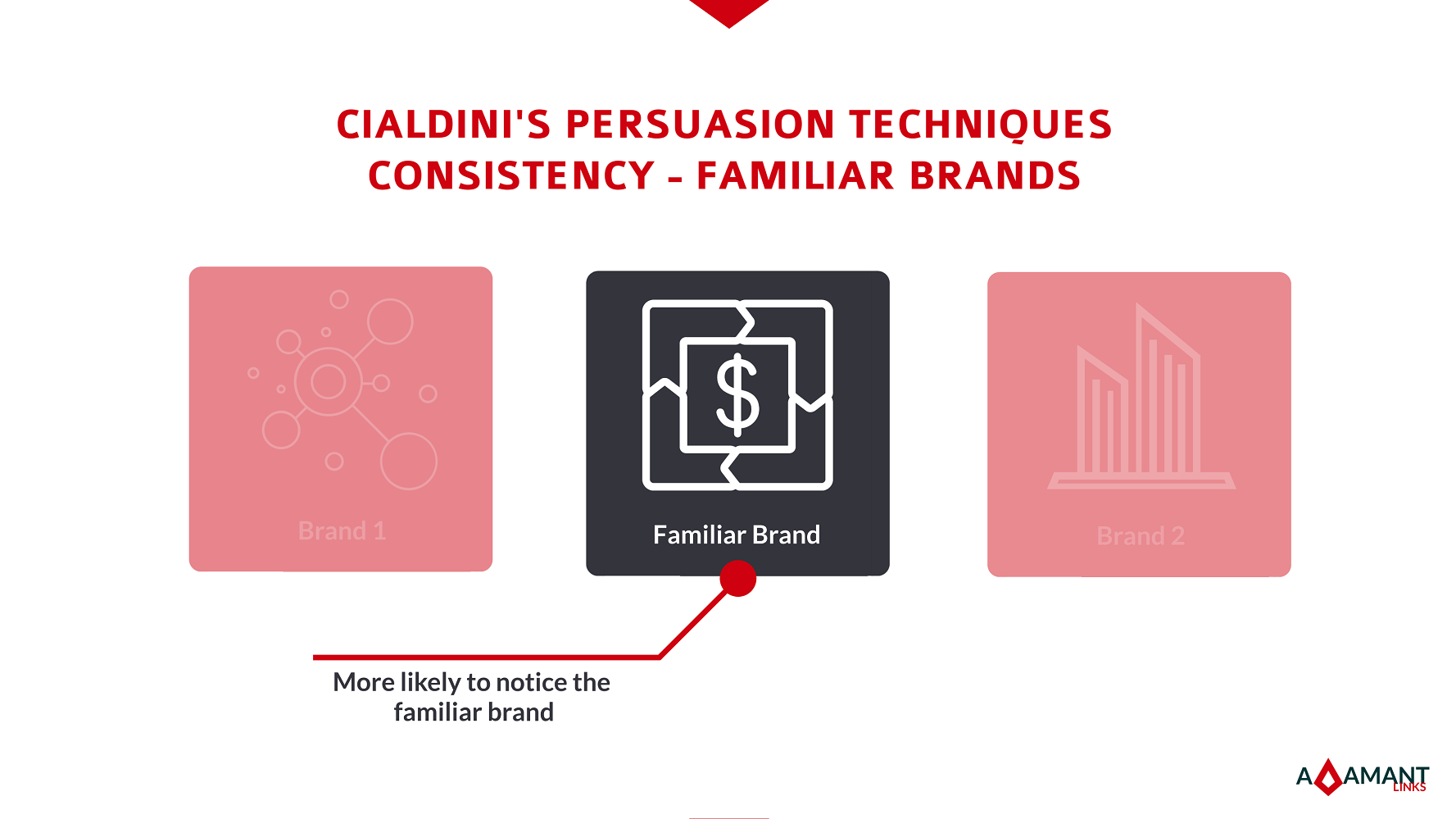 Adamant Links - Cialdini's Persuasion Techniques - Consistency: Familiar Brands
Finally, "Consistency" is highly related to familiarity of brand. When faced with a decision to purchase something between multiple brands, the one that is most familiar will probably be chosen. For example, update to new version of a product is the outcome of "Consistency". Familiarity is attained through exposure, making exposure a key aspect of any marketing strategy. Even if people do not directly convert as a result of a marketing campaign, they might become clients later as a result of familiarity.
Out of the Big Five/OCEAN personality profiles, people high in Conscientiousness or Agreeableness will respond to this technique. Both personality types are defined by consistency, traditionalism and a high need for stability or predictability. As such, they prefer familiarity to new experiences (which come with a strong dose of unknown).
People high in Openness are less likely to respond favourably. Some of the sub-traits that define this personality type are "trying new things" and "variety" and as such they are less likely to maintain their commitment to a specific brand.
A special situation where "Commitment" is applicable to people Open to Experience, Extroverts and people high in Neuroticism refers to upgrading an already owned product to a version that provides new, imrpoved or exciting features. It's also worth to mention, that when it comes to daily shopping, due to the automatic nature of the trivial decision-making process they might use consistency to buy products (especially food or beverages) that they are accustomed to.
References:

"Investigation of the Influence of Personality Traits on Cialdini's Persuasive Strategies", Kiemute Oyibo , Rita Orji and Julita Vassileva, 2017
"Psychological targeting as an effective approach to digital mass persuasion", S. C. Matza, M. Kosinskib, G. Navec and D. J. Stillwelld, 2017
"Investigating the Role of Personality Traits and Influence Strategies on the Persuasive Effect of Personalized Recommendations", Gkika Sofia, Skiada Marianna, Lekakos George and Kourouthanasis Panos, 2016
"Personalized Persuasion: Tailoring Persuasive Appeals to Recipients' Personality Traits", Jacob B. Hirsh, Sonia K. Kang, and Galen V. Bodenhausen, 2012
"Big Five Personality Traits and Responses to Persuasive Appeals: Results from Voter Turnout Experiments", Alan S. Gerber, Gregory A. Huber, David Doherty, Conor M. Dowling, Costas Panagopoulos, 2012
"The Impact of Individual Differences on Influence Strategies", N. Alkis and T.T. Temizel, 2015
Comming soon:
Psychographics and Persuasion - Part 2